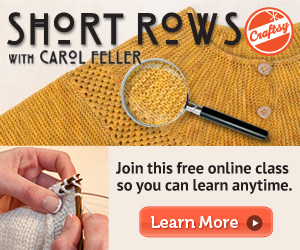 Free Craftsy Short Rows Class with Carol Feller
Looking to learn a new craft? Stitch your knits into shape and never make a wrong wrap or turn! Learn how easy using short rows can be in this free, technique-based mini-class from Craftsy.
Swatch along with Carol Feller, an expert knitwear designer, as she shows four different short row methods: wrap and turn short rows, Japanese short rows, yarn over short rows and her own invisible short rows.
Click & Get Started today!