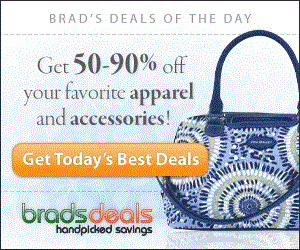 Daily deals from large brands at 50-95% off!
Hard to believe, but BradsDeals already has information for Black Friday 2012! You can sign up for emails that will keep you posted as new ads and items are available. For people that like to get a jump start on the biggest shopping day of the year, this is a MUST!
BradsDeals.com is the largest editorial-driven deal website aimed to help save you time and money. Visit BradsDeals.com to see what we've deemed to be the best deals online each day. We have a staff of deal editors that scour the internet looking for the best deals and testing online coupon codes, so you don't have to.